Tags
Related Posts
Share This
Of Montreal – Hissing Fauna, Are You The Destroyer?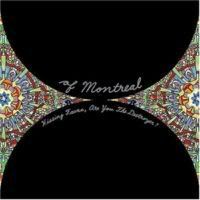 Of Montreal- Hissing Fauna, Are You The Destroyer?
(Polyvinyl, release date 1/23/07)
Dear Athens, Georgia, what the hell is in your water supply? And how much has Of Montreal been drinking? Psychedelia never sounded so good. Think the Beach Boys' Pet Sounds crossed with The Brian Jonestown Massacre. Except where BJM's Anton Newcombe fails, Of Montreal's Kevin Barnes succeeds, and succeeds with flair. Thinking backwards and borrowing from the past just as much as it thinks ahead and re-invents itself, Hissing Fauna's lo-fi psych-chamber folk-pop dizzily spins you in place while taking you to the far reaches of the cosmos and back again, all in the span of 51 minutes.
Suffer For Fashion, the first track on the album, starts off with a child's singing and turns itself towards a dancy little number, with a perfect segue into some Beatle-esque la-la-la's to start the next track, Sink The Seine. A few tracks later, Heimdalsgate Like A Promethean Curse, beckons the chemicals to come on and do their thing. If I can sum the album up in one line borrowed from the record itself, it's "we want our film to be beautiful, not realistic" and Hissing Fauna achieves this maxim. The funk of Faberge Falls For Shuggie hearkens back to some Check Your Head-era Beastie Boys crossed with some smooth Steely Dan-ish elevator soul, making for a weird, if not infinitely interesting listen.
So, it appears that Of Montreal is here to stay, and I thank the music gods in earnest. The effect that 2004's Satanic Panic in the Attic had on me, and what 2005's The Sunlandic Twins helped to further cement in my mind is more than merely replicated on Hissing Fauna, it's like the last in a trilogy that completes the circuit and gives new meaning to their entire body of work. Concept albums are one thing, but conceptual continuity is a whole 'nother thing, and Of Montreal is heading down a road that few others have, so mentioning them in the same sentence as Frank Zappa and King Crimson, two other bands that come to mind when thinking about continuing a concept over several years/albums worth of work, may be a heady concession, but I can wait and hope that's where they're going…